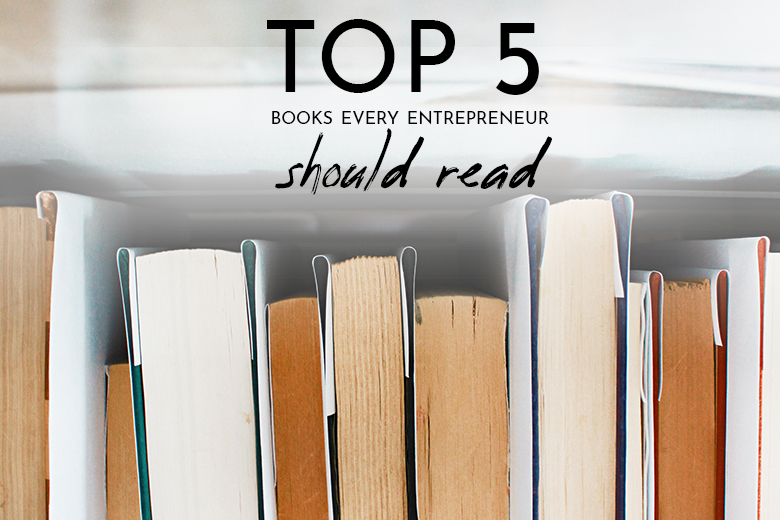 Does your business I.Q. need a little bit of a boost? We could all use a tune-up sometimes. In the mess of distractions we face every day, it's easy to get swamped, overworked, and collapse onto the couch with Netflix at the end of the day. But there's a better way.
We've compiled a short list of some of the best words ever written about business. We believe these intellectual treats will not only invigorate your mind but help you reduce stress and maximize your productivity at the same time.
What Makes our Top 5 List of Business Books?
There are many great business books on the market, but we wanted to recommend the special ones that were not only full of useful tips and tricks, but are also fun to read and well-written.
The 4 Disciplines of Execution: Achieving Your Wildly Important Goals
Do you or your team have a wildly important goal? The Four Disciplines of Execution (or, 4DX) propose a radical set of principles designed to motivate a team into performing at their maximum ability and achieve those wildly important goals. Every manager knows how difficult it can be to motivate a group of people. And every entrepreneur knows how difficult it is to motivate themselves into action. The principles defined in 4DX offer a shining light onto how you can modify your own behavior and the behavior of your team with a few simple tweaks (include a big scoreboard).
Deep Work
Cal Newport's masterful little book about how to concentrate in a distracted world was the surprise business best-seller of 2016. The idea is simple: if you want to really move the needle in your professional life, you must cultivate an ability to focus and eliminate distraction wherever possible. It's the anti-email, quit social media renegade business book for the deep thinker who wants to stand out from the pack.
Newport's methods and recommendations are difficult to undertake, but they align with the habits of some of the great minds of our time from Carl Jung to Bill Gates to J.K. Rowling and many more.
The 7 Habits of Highly Effective People
Here we have another business classic by Stephen R. Covey. You may recognize this title. Surely one of your past or future bosses will have set this book on their shelf. Want a sneak peek? Here are the habits:
Be proactive
Begin with the end in mind
Put first things first
Think win-win
Seek first to understand, then to be understood
Synergize
Sharpen the saw
Sharpen the saw? What saw? Of course, just knowing the habits isn't enough. You need to read the book to find out.
Extreme Ownership: How U.S. Navy SEALs Lead and Win
Perhaps your work life is missing a bit of military-style discipline. Jocko Willink and Leif Babin, two decorated Navy SEALs, teach you how serious leadership principles can improve your business life and the world. Leadership is not just about leading a team, but learning how to lead yourself. This book will encourage you to take ownership of and responsibility for yourself and what you produce.
How to Win Friends and Influence People
Dale Carnegie's 1937 guide has become the business classic of modern times. To this day, the advice within has guided entrepreneurs and business people of all shapes and sizes on the way to achieve their goals.
85% of your financial success is due to your personality and ability to communicate, negotiate and lead. Shockingly, only 15% is due to technical knowledge.
Carnegie's timeless message of affability and personal development has encouraged generations of upstarts and go-getters to take their fantasies and turn them into reality. You could be the next one.
Give These Business Books a Read (You Won't Regret It)
This is a small sample of the great library of business literature out there. All of these books are still in print and readily available at fine bookstores everywhere or right through your computer via online retailers like Amazon. Give your business I.Q. a boost today, and you won't regret it.
We're interested in business because we help people and agencies build business websites every day with our suite of plugins and our upcomingWordPress theme. Give us a download today, or if you're already using BoldGrid as your canvas, we'd love tohear from you.