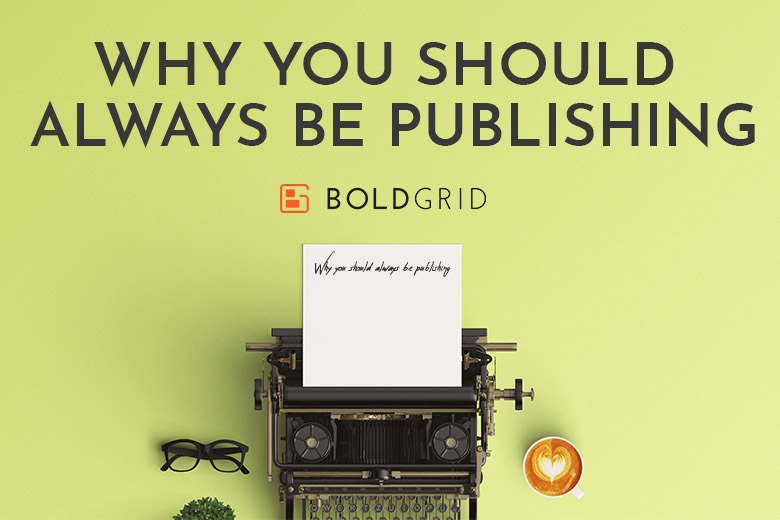 You've probably heard the software programming maxim: always be shipping. This can be taken to mean that you mustn't hide your product from the world; instead, always have a new and better version of your product out there on the market. The same is true for your content writing efforts. But instead of "shipping" you need to be "publishing". Always be publishing.
By publishing content on a regular basis, you are keeping your audience engaged. If someone starts following your blog and you suddenly pump the brakes on new content then that reader will disengage, and has little reason to continue to return.
Consistently publishing also helps your search engine optimization (SEO). Search engines are more likely to recommend your site if they detect regular activity. It makes sense: if you were providing a recommendation to a friend, you surely wouldn't suggest they follow a site that is rarely updated. Lastly, dead sites are less secure; if someone hasn't updated their blog in months, it's safe to assume they haven't updated their site's code, leaving bugs exposed to the web – which can be easy prey for hackers.
Don't let your site fall behind; always be publishing.
Easy Ways to Always Be Publishing
Smart writers know how to use their resources. Take advantage of the tools you have available to you. There are lots of great publishing platforms out there that let you sync up blog posts with social media. This way, you can keep your message consistent across various channels and always be publishing. However, some of these tools are expensive and might be out of your budget. Luckily, there are free resources available to you.
These tools will not do the content work for you. You must work hard to produce content in advance in order to load up your calendar. If you're just starting out, make it easy on yourself. Set a twice-monthly posting goal and make sure to hit it consistently. Once you've got a few months under your belt, you can challenge yourself further; perhaps you could handle a weekly post.
No matter what the frequency, make sure you hit your goal without fail. Here are a few resources that will help you be successful.
How to Schedule Posts in WordPress
It's easy to schedule blog posts right from within your WordPress dashboard. Once you've written a post, don't just slap that Publish button. Notice you can select a date and time on which your post will appear. Set a date from your calendar and notice: the Publish button now says Schedule. Well done! You just scheduled a post. Keep doing that and you'll never run out of fresh content.
Connect Social Media with Jetpack
The
Jetpack plugin for WordPress
allows you to connect social media accounts.