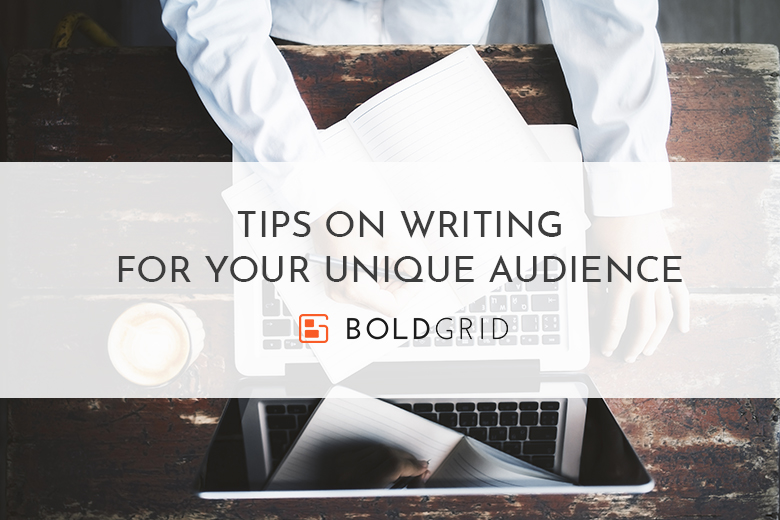 Tips on Writing for Your Unique Audience
Writing for a single page website can be tough. Space is limited and you want your message to be concise and to the point, but also informative and interesting.
At this point, we are all aware of the power of good content. It allows you to reach your audience in a formidable way–creating engagement, intrigue, and excitement where other marketing methods might not.
But with so many other websites out there (many vying for exactly the same target audience as you), the quality of your copy has to be
superb
.
That's a tall order for any business person!
The key, of course, is to write for your target audience. When you know whom you are writing for, the words will just come naturally.
Here's what you need to know:
Who is your target audience?
Your target audience is the group of people that ALL of your content should be created for. They are the individuals that have a need (and a desire) for your product or services. They are the people that will pay you.
Not sure who that is? Check out the competition! It's likely that whoever is doing business with them might also do business with you. Think of two or three influencers in your market and then:
Go to their social media profiles, see who they are following or who follows them, and add them to your own network.
Stalk their blogs, see who is leaving comments, and interact with their audiences.
Check out the hashtags they use on Twitter and Instagram and then figure out who else is using them.
How can you get their attention?
Now that you know who your target audience is, how do you get them to pay attention to you? Start by offering them quality, informative content. With a single page website, it's likely that you're not going to include a blog–but there are other ways to work in a little copy.
Create a powerful 'about' blurb to help connect with your ideal customer
Use catchy headlines and titles to create intrigue and break up the text
Use a well-placed text box to tell an interesting story
Share testimonials and reviews from satisfied customers (no advertising is better than word of mouth!)
Include links to your social media accounts, so visitors can check out your posts and images on other platforms
What makes great copy?
When you're writing for your target audience, you want to create a connection with them. You want them to see you as a helpful resource, or perhaps even a friend. Someone they can relate to.
To that end, you should:
Be yourself

. Don't be afraid to show a little personality. You don't have to get SUPER into the details of your daily life, but don't be afraid to let loose. Tell jokes. Talk about causes that you believe in. Tell them about the great new book that you're reading. The goal is to seem like a real person, and

not

a faceless corporation!

Be helpful

. Nobody likes a blatant sales pitch. Your content can't be all about your products and services or no one is going to read it. In fact, most experts suggest sticking with the 80/20 rule: 80% helpful, informational content and 20% promotional.

Be entertaining

. While you were doing your target audience research, you should have gotten a fairly good idea of topics that they enjoy. Center your website, your social media, and all of your other content around the themes that interest your audience.

Spark conversation

. Engagement is amazing for so many different reasons: it keeps people interested in your content, it acts as killer social proof, and it helps boost SEO to boot. In order to increase engagement, share material that will get your audience talking or prompt them to ask questions.
Final thoughts
These are just a few of the ways you can use content to attract an audience. BoldGrid for WordPress makes it easy to not only create a great website but to create and optimize content as well.
We'd love to hear your ideas. Tell us: What have you done to create more engaging content on your single page website?