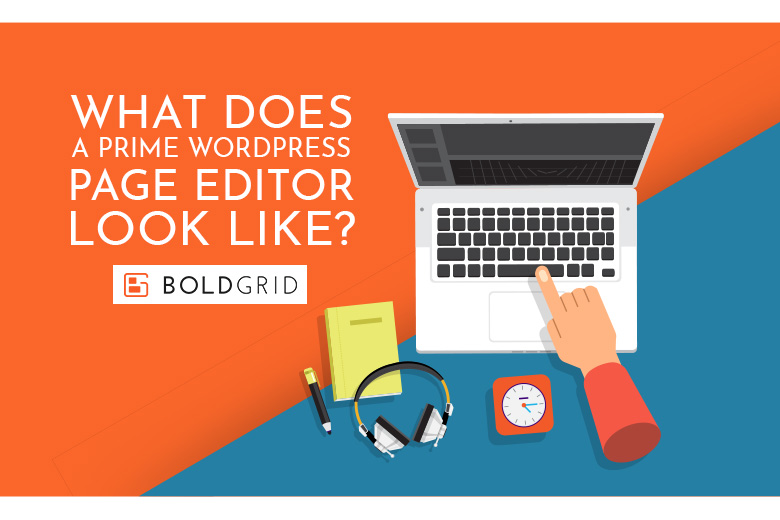 What Does a Prime WordPress Page Editor Look Like?
Want to make changes to the look or functionality of your WordPress website? You need a WordPress page editor.
An editor gives you the tools and technology necessary to create and modify page and post content quickly and easily. Instead of worrying about the layout or design of various elements (like quotes, text, or images), you can focus on creating instead – no coding experience necessary!
Here's what you need to know:
The Basics
If you already have a WordPress website, you may be confused by the term "page editor." Isn't WordPress a page editor? You can use it to update and change your content, right?
Well, yes and no. WordPress is a content management system (CMS), not a page editor. What's the difference?
While you can use a CMS to make create or alter a website, it can be a complicated, time-consuming process. Using a set of specialized tools, a WordPress page editor can perform most of the same functions, but in an easier, more beginner-friendly way.
Key Differences
Besides simplicity, how does a page editor differ from a CMS? There are several key differences:
Visual editor

: Website editors typically use a visual editor, meaning that whatever changes you make in the editor mode look exactly the same as they will on your website. CMSs, however, usually use a form editor – and what you see on that form isn't necessarily what the actual page will look like once it goes live.

Flexibility

: Working directly in WordPress is more flexible than using a page editor – in large part because you can use code to manipulate the various visual elements and functionality. Unfortunately, unless you're a web designer, you likely don't know how to code . . . and trying to figure it out on the fly can get messy. Luckily, whatever page editors lack in flexibility, they make up for in reliability: you know that whatever elements you see on the page, from color palettes to contact forms, are always going to look great and work well – you literally can't mess it up!
What Does a WordPress Page Editor Look Like?
So, a page editor sounds great, right? But how exactly does it work? Page editors like BoldGrid use drag-and-drop blocks to transform the way you create and edit your WordPress website. Each pre-formatted block contains text, visual elements, or other content that you can use to quickly alter the look of your page – without the use of shortcodes, HTML, or embeds. It's an entirely effortless, stress-free page-building experience.
How can you get started?
Getting Started is Easy
If you've already installed WordPress software onto your website, BoldGrid can be up and running in a flash.
Once you have BoldGrid installed, creating a new website or editing an existing one is an effortless process. If you're creating a brand-new site, there are two phases:
Inspiration:

During the first phase, you will choose the theme (or "Inspiration") for your website. BoldGrid has over 200 options broken down into categories (like business, real estate, or restaurants) that you can choose from.

Customization:

During the second phase, you can start personalizing your website by adding images, changing color palettes, creating new pages, and more. This is where you'll spend the most time, but also where you'll have the most fun!
The process for editing an existing site is much the same, only BoldGrid will allow you to make all changes in a "staging" area while your current site stays live. The changes won't go live until you publish them.
Our Editor
The BoldGrid WordPress page editor offers dozens of useful features that will make creating a new website or editing an existing one fast and easy. If you'd like to learn more about how to use BoldGrid for WordPress and what you can do with it, visit the BoldGrid Support Center today!