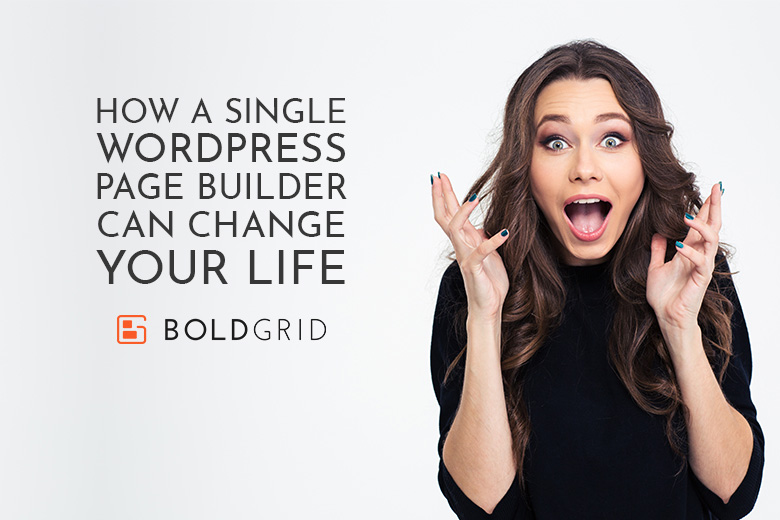 How a Single WordPress Page Builder Can Change Your Life
Fact: The right WordPress page builder can change your life. How, you may ask?
Building a website, especially if it's your first one, can be a daunting experience. From designing the layout to adding functionality, it's a time-consuming, complicated process.
Yet, having a website is essential. These days, your business just won't stay afloat without one.
So, what can you do if you don't know how to code or design, but you also don't have the funds to hire a professional? If you guessed "use a WordPress page builder," you are correct!
The right page builder will help you create a professional looking, user-friendly website . . . and it will be completely painless.
Here's what you need to know:
Not All Websites Are Created Equal
Before you get started on your website, the best thing you can do is sit down and think about your purpose. Why? Because not all websites are created equal: You want to make sure you're building the right site for YOUR business.
For example, if you create and sell handcrafted goods you'll need a different type of website from someone who runs a marketing agency.
Take some time to really think about what you hope to accomplish with your website. Do you want to:
Attract a new audience?
Drive people through your sales funnel?
Create a portfolio for your art, music, or writing?
Share your thoughts or expertise through a blog?
Sell a product or service?
The Type of Content Your Want Will Influence Your Design
Some people start off knowing that they want a simple, one-page design with just the basic information, while others want a complicated multi-page affair that covers all the bases. Either way, having a plan in advance makes the entire process easier.
Not sure what you want? Here are some types of content businesses often include on their sites:
Home page

: If you create a multi-page website, this is the first page that visitors will see. It usually offers a brief overview of your business and sets the tone for the rest of the site.

About me

: As a business owner, it's important to create a connection with your audience. An "About Me" page provides a place for you to share your "why" and tell the story behind your brand.

Products and services:

This is where you share details about the services or products you offer. Don't skip out on this step: if visitors can't find your products listed on your site, they'll go somewhere else.

Contact:

Providing a way for clients and prospects to reach you is an absolute must.

Blog:

Blogs are useful for several reasons, including improved SEO and increased community engagement.
Other content options might include customer reviews or testimonials, explainer videos, image galleries, past work, or trusted partners. It's totally up to you!
Building Your Website
Hashing out all of that information may seem like a tedious process, but it will create a solid foundation on which you can build your website – and once you have those basics hashed out, you can get started on the fun stuff!
When it comes to website builders, there are dozens of different options . . . but we believe the #1 choice is BoldGrid. Why? Because BoldGrid is a powerful all-in-one resource that allows for the fast and easy design of beautiful websites (with absolutely zero coding experience required).
Even better? Automated website maintenance tools handle all of the routine updates and backups for you. Here are just a few of the other reasons we think it's amazing:
You can create a 100% unique look –

With 200+ Inspirations available, BoldGrid makes it easy to create a unique, industry-appropriate website that stands out from the crowd. In addition, a guided set-up makes getting online fast – even beginners can create an entire site in one day or less.
Content is easy to add –

A simple drag-and-drop builder makes it simple to quickly add blocks that are pre-populated with content that fits your theme. Don't worry if you don't like the content, though – you can always replace it with your own.
Backup happens automatically –

Website backup is one of those things that everyone just forgets to do – even seasoned pros. BoldGrid's automatic backup takes out the risk of human error and acts as an all-in-one backup, fault protection, and migration solution. Plus, it can identify faulty updates!
Our WordPress Page Builder
Building a website is easier than ever before. With a WordPress page builder like BoldGrid, all of the guesswork is removed from the equation: The process is fast, easy, and YES, even fun. If you'd like to learn more, reach out to our expert service team today and find out how you can get started.