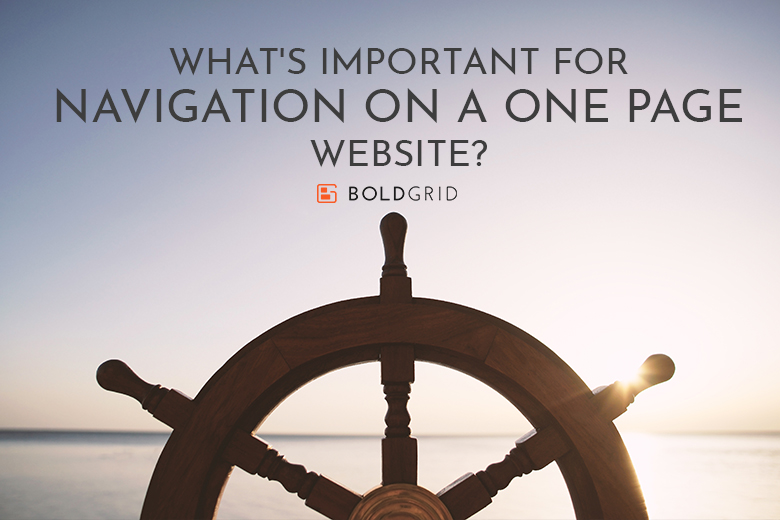 What's Important for Navigation on a One Page Website?
One page websites seem to be all the rage these days. But they also face a lot of criticism.
One of the frequent arguments against them is that they're difficult to navigate. With everything all on one page, it can be hard for users to find what they're looking for.
Perhaps even more importantly, it can be hard for web crawlers to find what they're looking for. By nature, a one page website can only focus on a single topic. For many one page websites, this leads to little to no organization or structure–just one big block of text, all about the same thing.
But it doesn't have to be that way! There are countless ways you can make your single page website both interesting to look at and optimized for SEO.
Here's how to create a one pager that your audience (and the search engines) will love:
Why a single-page site?
Let's start by asking why you would want to use a single page website in the first place. After all, it automatically limits how much information you can share with your audience–and rumor has it that SEO can be difficult.
Still, a one page website can be highly beneficial for business. One of the biggest advantages is that web visitors will be able to quickly determine your message without a lot of scrolling or bouncing around. At just a glance, they will know if you offer what they need or not.
Other benefits of a one pager include:
A higher conversion rate

: Because all of your information is clearly visible on one page, visitors are able to easily find your CTA and act.

It's concise

: A one page website focuses on one main idea and hits on only the most important points, leaving little room for 'filler.' That means when visitors look at your page, what they're going to see is a virtual highlight reel of your business and what it has to offer.

It's easier to maintain

: On your end, a one page site will be much easier to update and maintain. You can quickly log on, see everything that's there, and make changes as needed – without hopping around to multiple pages, trying to find what you're looking for.
Important navigation features for your single page site
When it comes to a one page site, you can't really include traditional design features like dropdown menus and navigation tabs. So how can you help guide visitors to what they're looking for or to what you want them to see?
There are several ways to add 'navigation' cues to your website, if you're creative. Here are just a few:
Paginate your website

. Pagination is a term traditionally used in print work for manuscripts, books, and the like. It's the process of indicating the sequence of pages by adding numbers or other characters.
But how can you 'paginate' something that's only one page to begin with? You can use certain design elements to give the feel of multiple pages of content.
For example, you can separate content by using headings, blocks, columns, and so on. Through the use of clearly defined sections, you can easily add all of the information found a traditional website (home, about, contact, products, and so on) without adding more pages.
Include multiple H1 tags

. H1 tags are typically reserved for the title of a page, so you wouldn't find more than one on any single webpage. And SEO-wise, it's considered more harmful than good to include several H1 tags on a page.The exception, however, lies in your one page website. Because there is only one page, H1 tags can be used to indicate a separation between different topics. It makes it easier for your visitors to scan and find what they're looking for and offers the opportunity to get in a few extra keywords.
Update content regularly

. It is a well-known fact that Google loves fresh content. The more often you update your website, the higher you're likely to show up in search results.
For many website owners, that means writing and updating blog posts on a regular basis. But if your website doesn't include a blog, adding in new content can get tricky. Some simple ways to keep things fresh include:
Switch out old testimonials and reviews for new ones on a regular basis
Update images, graphics, and videos often
Regularly rotate opt-in boxes to keep things interesting
Make sure product descriptions and services offered stay up-to-date and reflect any changes
Ready to get started?
If you're ready to get your business online, you can have a professional, unique one page website up and running within two business days. Visit our BoldGrid webpage to find out more about our premium website builder and hosting packages.