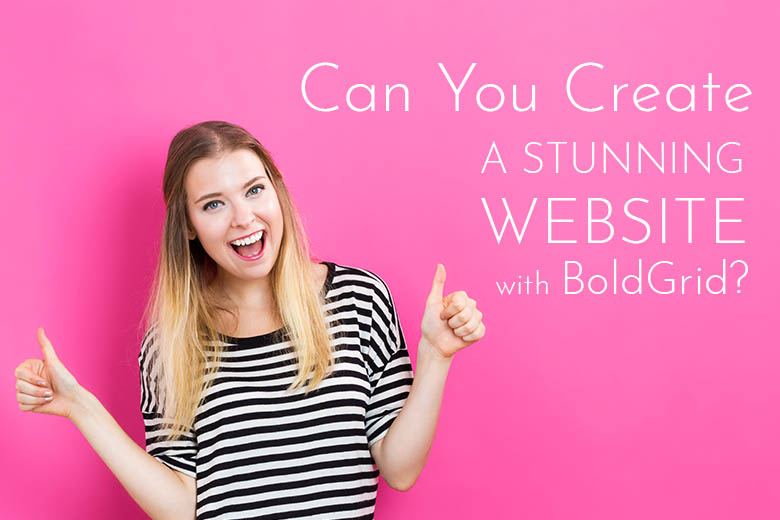 Can you create a stunning website with BoldGrid? When this question was posed, instead of just giving an 'absolute yes', we decided to compare side by side: BoldGrid vs Wix. That way you could see the differences for yourself.
Today, we're going to compare:
Ease of Use
Pricing
Flexibility
So without any further ado, let's jump into our comparison.
BoldGrid vs Wix – Ease of Use
When it comes to ease of use for building a website, many will give the upper-hand to Wix, but after testing both builders, we found that BoldGrid is just as easy to use as Wix, maybe even easier. After building a website on both, we feel that they are equal as in terms of ease of use.
Wix: Using their own custom builder, you are restricted to their set of themes and tools. You can drag and drop elements and place them where you'd like. You are also restricted to their wix.com branded domain.
BoldGrid: Built on top of the WordPress content management system (CMS), BoldGrid's tools make building a website on WordPress very fluid, without knowing any code. The free version allows you to use your own domain.
BoldGrid vs Wix – Pricing
While Wix may advertise as a 'free' website builder, the end product isn't ultimately satisfactory. For example, you can publish your website, but Wix places a banner at the top of the website saying, "This website was build with Wix Website Creator".
The free version of BoldGrid allows you to create a beautiful website without having a banner saying what service you're using. The free version does have a small credit to BoldGrid in the footer, but is very inconspicuous.
While both BoldGrid and Wix both have free plans, they do offer premium plans.
BoldGrid's premium tool is one simple flat rate fee of $60 a year. That includes all features, including a full suite of additional tools, such as an SEO tool, and staging tool.
Wix has several plan options, starting at $11 per month and going up to $35 per month. Each plan offers additional features, such as using your own domain, or SEO services.
So as for pricing, you could spend $60 a year with BoldGrid and have the complete set of unlocked tools, or spend $132+ a year for the basic features of Wix.
BoldGrid saves you hundreds of dollars every year!
Now some may pose the argument that Wix includes web hosting and BoldGrid doesn't. While this might seem to be a valid argument, when you choose one of BoldGrid's hosting partners, you get BoldGrid included with your hosting package. For example, right now with Web Hosting Hub, BoldGrid's partner, you get the premium suite of tools with THREE years of hosting for a total of $179. So math shows that for three years with Wix's premium plan, you spend $1,260.00, and for BoldGrid's partner, Web Hosting Hub (BoldGrid premium included) you'll spend $179. This is quite a difference.
BoldGrid vs Wix – Flexibility
When it comes to flexibility, BoldGrid has a major advantage. Not only is BoldGrid built on top of one of the most common CMSes, but BoldGrid gives you complete ownership of your website. If over time you want to learn coding and make custom changes, you have complete control.
BoldGrid gives you complete ownership of your website. Take it to any host, without any limitations.
Wix does have a robust editor, but when it comes to flexibility, you are required to use their page builder tool and can't move your website. The truth of the matter is that you don't fully own your website when you choose Wix. All elements and overall design is restricted to their platform and hosting. If you decide to move, you have to start over.
Recap
So let's do a quick recap over the three categories that we compared.
Ease of Use – Winner: Tied – BoldGrid and Wix both have an easy to use platform.
Pricing – Winner: BoldGrid – While comparing both premium platforms, BoldGrid is giving you the best bang for your buck compared to Wix.
Flexibility – Winner: BoldGrid – Built on top of the one of the most common CMSes, BoldGrid allows for the most customization as well as complete ownership over your website.
Overall winner: BoldGrid
While some may doubt these major differences, we want you to experience the power of BoldGrid for yourself. We've developed a new tool called Cloud WordPress, where you can spin up a free WordPress in the cloud. That's right, you can build a website on free hosting. Give BoldGrid a try with Cloud WordPress today!