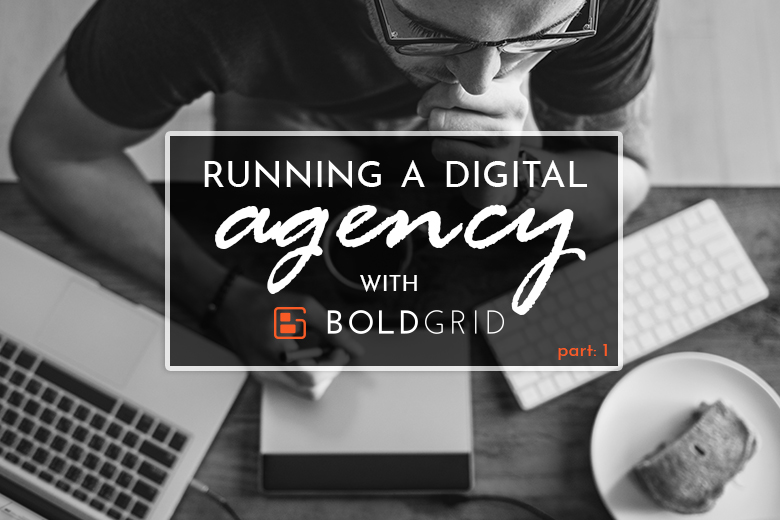 Running a Digital Agency with BoldGrid (Part 1)
In this series of articles we're going to run through some scenarios involving running a digital agency (for example, a marketing or design agency) using BoldGrid. We've identified some struggles associated with running an agency of this kind. We hope BoldGrid answers the call for small business owners who need powerful features within a modest budget.
If you'll follow along with this 3-part series we will demonstrate how you can use BoldGrid for running a digital agency.
Along the course of this series we're going to cover a lot of topics.
We'll start with building a site for your company with BoldGrid as your canvas.
Then we're going to get more technical discussing how you can rapidly put a site together for a client as an example or template.
We'll go deeper in part 3, where we learn about Rapid Prototyping in the cloud.
Your Own Site Looks Beautiful
When you decide to use BoldGrid to build your company site, we want it to look beautiful. And we assume you want the same thing. If you're going to attract clients, you'll want to make sure your web presence captures a desirable aesthetic.
So we came up with the Inspirations process. You'll notice when you drop into Inspirations, picking a theme for your site is a highly intuitive process. You can even filter by various business sectors. We have consulting, construction, real estate, restaurant, and much more.
But since we're approaching this process from the perspective of a digital agency, consulting will likely provide the necessary "inspiration". (You also get example copy to spark your ideas, which we advise you change to match your other branding.)
Visualize Your Final Product
The Inspirations process makes a lot of your design decisions much easier. And this is great if you're already a designer looking to make something for yourself. But it's also great if you're a novice at web design.
Most importantly, you must have a strong image in your mind of what you want to accomplish. This will help you stay on track as you navigate through designing your site with BoldGrid.
Gathering Information From Clients
Once you've built your own site and it looks beautiful, you can focus on doing the same thing for your clients.
We know you have something great to offer your next client. But does your client know that? You'll want to make sure that your client has faith you can deliver their vision. This is why it's best to get as much information about them as possible.
What's their logo? (If they don't have a logo, must you design one for them?) What are the colors associated with their brand? Surely the client will have something for you to work with.
Get as much information as you can. Your client will appreciate your honest effort to hear them out.
Creating an Easy Contact Form for a Prospective Client
But how should you get all of this information? With BoldGrid, we've made it our mission to simplify the whole process.
Your site comes through the Inspirations complete with a contact form. You can use this form to set up the initial contact with your prospects. Just direct them to your URL: example.com/contact/, and they will be able to get in touch with you.
You can use the default contact form, add fields to it, or create a whole new one from scratch. We've included WPForms, one of the most popular WordPress contact form plugins, right into BoldGrid. So your contact form is ready to go right after you finish the Inspirations process.
Getting as Much Information as You Can From the Beginning
Your business strategy is up to you. But if a project goes on for ages without any conclusion then you'll certainly lose money and time. This is why it's important to get as much information about a project as possible from the beginning.
We'll be honest, BoldGrid makes your design and development tasks easier, but that's no substitute for good communication with your client.
Wrapping Up
In this article, we discussed how you can use the Inspirations process to build a great site for your digital agency. We also discussed how you can use the your included contact form to field prospects. Lastly, we learned about breaking the ice with a new client. Later we'll circle through making quick changes and the day-to-day work you'll be doing with BoldGrid (and we have a little surprise for you). Then we'll get super technical in the cloud. Stay tuned!