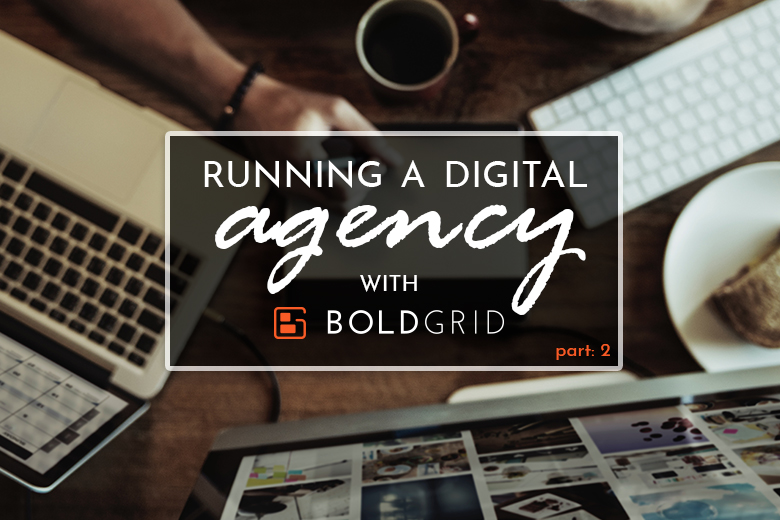 Running a Digital Agency with BoldGrid (Part 2)
In our previous post, we visited strategies for using BoldGrid to create a beautiful site for your business and how you can use your contact form to generate sales leads. In this second part of our series we're going to look at:
Quickly designing a new site as a template
Using the new Crio theme to design a site (no extra plugins required)
Using the page and post editor
Using BoldGrid SEO
Quickly Design a Site
Once you've brought in some leads, you may find your have clients who know exactly what they want right at the start. But for others, you may need to provide a suggestion or a template they can look at right away. You may not want to put too much effort in all at once. You can have your customer go through the Inspirations process, but that's the best solution. Rather, you can quickly go through the Inspirations process and create a site instantly with example copy tailored to your customer's industry.
Design a Whole Site with Crio
Did you know we've built all the good things about the BoldGrid plugin into a theme? Now you can get the benefits of BoldGrid from a WordPress theme, and you can customize it yourself using the same tools from the BoldGrid suite of plugins. Our theme will be available soon on the Envato Marketplace. Be sure to follow our blog right here for updates.
Make Changes Quickly
If your client likes what you showed them with Inspirations, you can quickly make changes to the site to refine the look. You can easily and quickly change the color palette, font, background, and other controls right from the improved WordPress Customizer. Then you can edit page layouts, and, of course, the example copy written on each page using the Page and Post Editor.
Page and Post Editor
Our intuitive page and post editor lets you dive into a page with drag and drop sliders and movable sections. This means if your client makes an urgent request, you may be able to fix it right away instead of alerting your designers or developers.
BoldGrid SEO
Your clients will likely ask you about SEO? "What are we doing about SEO?" they might say. The BoldGrid SEO plugin is your answer. (Though we'll let you take the credit for it.) The SEO plugin allows you to add metadata to your posts and will actually scan your content and provide an SEO score. This way, you can be sure that your client's post will appear optimally in search engine results.
The BoldGrid SEO plugin is part of our complete suite, and it's also built into our new theme, Crio (coming soon).
Your Efforts Organized in One Place
With the BoldGrid suite of plugins or the new Crio theme, you will be able to quickly and easily deliver a whole site to your client, ready and optimized for SEO and quick adjustments. All they need to do is add content. (But, you may want to offer content writing as a billable service since WordPress has powerful blogging features included.) Stay tuned in our series as we're going to learn about Cloud WordPress and Rapid Prototyping with BoldGrid.