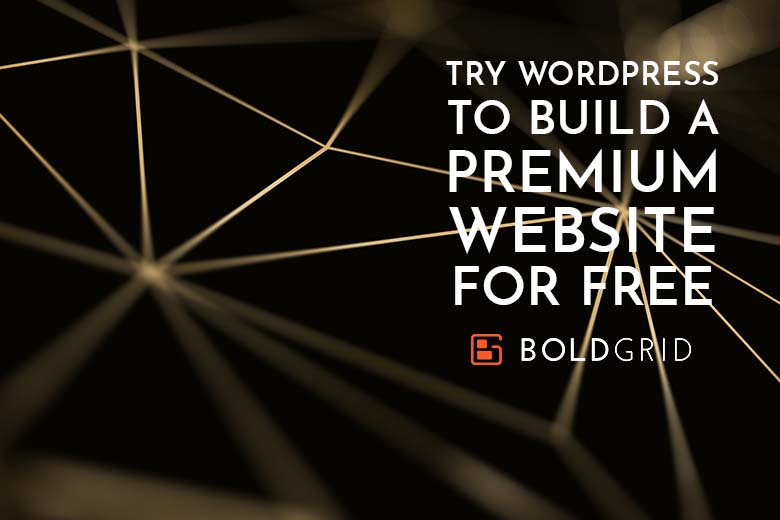 Try WordPress to Build A Premium Website for Free
Are you ready to finally build your website? Do you currently have a website but have been considering switching to WordPress? No matter which website tool you're familiar with, we can assure you that WordPress is absolutely THE platform for easily creating beautiful and professional websites without needing a web developer. What if we told you that you could try WordPress Premium free in just a few minutes today?
If you try WordPress Premium free with our demo, you'll not only get a feel for Cloud WordPress and how our BoldGrid product looks, feels and works – you'll also have access to a few extra features. Whether you are starting from scratch or looking for a new option, here's what our demo can do for you.
Build Your Site
No web development skills needed to build a beautiful and professional website for yourself or your business! Our BoldGrid tool makes building a quick website easy!
WordPress Themes
Test out new themes to get a visual of how your site will look when launched. A website is only as effective as its ability to quickly get the attention of the right people, so themes and design are essential.
WordPress Plugins
Have you been itching to try a specific WordPress plugin or just interested in how easy they are to install and use? In our free demo, website creators can safely test plugins without risking breaking their current page.
Pick Your Tool
While we are partial to our BoldGrid web builder, it's perfectly alright if you choose to use your own tool to test out our WordPress Premium demo.
Test Your Site
Whether you're in the office or hanging out in Starbucks, you can take, create and test your website anywhere for free. With our simple and fast site migrations you can easily transfer your free WordPress website anywhere with ease in just a few clicks.
Transfer an Existing Site
If you already have a website and you'd like to test it on our platform, you can use our Total Upkeep tool to migrate your site. All you'll need to do is install the plugin on both websites, create a backup archive on the original site and then simply restore it on the demo.
Get Feedback
Once you've picked a theme and tested your plugins and uploaded your content, our free demo allows you to show off your web design mockups with trusted advisors, teams or clients. We know how important having a solid design before launching so being able to offer this level of collaboration was important to us.
Not sure if you've hit the mark? Feel free to stage multiple WordPress themes or designs and share it with your team, your friends, or your clients to see if you are on the right track before committing.
Take Your Time
Once you verify your email, you have access to your cloud-based WordPress install for as long as you need to make a decision. We don't want you to feel rushed and we will be here when you are ready. (Caution: Unverified emails installs will only be available for 48 hours.)
If you're ready to take that test run and try WordPress Premium free today, sign up for our WordPress Demo (with or without Boldgrid – our easy drag and drop web builder) right now. Start making an impact with your cloud-based WordPress website without delay.