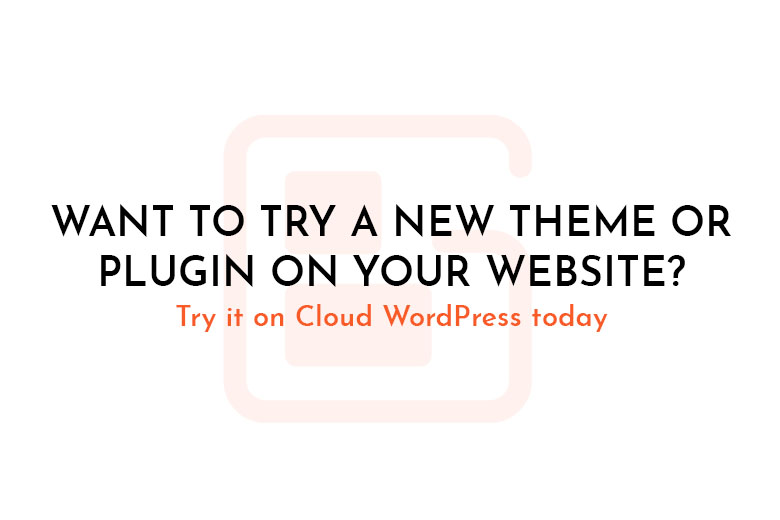 Want to Try a New Theme or Plugin On Your Website? Try it on Cloud WordPress today
Want to try a WordPress prototype theme or plugin on your website but you're afraid it might mess things up? It happens. Sometimes you install a completely wonderful looking plugin and – Boom! – your entire site suddenly looks weird (or worse, it crashes).
Luckily, Cloud WordPress can help.
Cloud WordPress allows you to quickly and easily test out new installations without altering your main site in any way. Here's what you need to know:
What is Cloud WordPress?
Let's start with the basics: cloud hosting means that multiple sites share resources on multiple servers, and those resources are delivered via the Internet. Site owners are only charged for the resources they use rather than paying a fixed monthly rate. Cloud hosting differs from other hosting options in that users can take advantage of a far greater network. Rather than being tied to one physical machine, there are dozens (or even hundreds) of different computers contributing to their site's performance. It is important, however, that servers be optimized for the exact type of software they'll be supporting. WordPress cloud hosting is optimized specifically for WordPress websites, and providers constantly update their servers to meet new demands. BoldGrid for WordPress makes it easy to install a WordPress prototype theme on the cloud, test it out, and then decide whether or not you want to keep it.
What are the Benefits of Cloud Hosting?
When compared to a traditional server, cloud hosting offers several distinct advantages.
Reliability: When it comes to traditional servers, reliability comes down to one physical machine. If the power goes out or it gets hit with a catastrophic virus, it may be quite some time before your site gets up and running again. With cloud hosting, however, there is an entire network of servers and if one goes down, another immediately takes over.
Increased speed: Although the speed of the actual servers isn't inherently faster, because there are so many of them working together, high traffic volumes or greater data consumption from another user won't affect your site.
Scalability: By design, cloud computing grows and shrinks as your needs change. Unlike a traditional server, which is often limited to one or two physical machines, cloud hosting has the ability to infinitely expand.
Customization: Different businesses have very distinct needs when it comes to cloud computing initiatives, and therefore, customization is key. Many hosting services allow users to determine their level of control with as-a-service options such as SaaS, PaaS or IaaS.
Security: Because cloud hosting spans across multiple servers, you have more capability for segmenting data. That means that even if one area of your website is impacted by a virus, it's unlikely to affect the rest of the site.
How Does Cloud Hosting Allow for Easier Testing?
Cloud WordPress allows you to quickly deploy as many Cloud WordPress installations as you need (premium only, free: limited to one). You can use your multiple installations to show clients what multiple prototype themes or plugins will look on their website before going live. Once finished, you can easily transfer the site you need to your preferred host using the BoldGrid Total Upkeep plugin and delete the rest with a single click.
Simply install the backup plugin on both your live WordPress website and the cloud installation, use the plugin to backup the cloud installation, and then restore that backup on your live site. Easy!
Final Thoughts
Installing a WordPress prototype theme or plugin (or making any change to your website) can be a scary prospect. Building a website takes a lot of time and thought, and the last thing you want to do is mess it up once you're done.
Working in the cloud is the easy solution. It's much simpler than testing solutions of the past and makes trying out new installations a breeze.